DINING
at Sundown Villa
From the minute you enter Lime–Acre, this former lime plantation will transport you to another place and time. Whether it's local seafood caught fresh from the sea or tropical fruit plucked from the surrounding lush gardens, Lime-Acre provides a bounty of delicious treats.

How we stock our Villas

Guests have two options when it comes to how to pay for their food and drinks. Guests can either choose the ALL-INCLUSIVE PACKAGE when they pay for their villa, which covers all expenses up front, or they may choose to pay for the groceries purchased at the end of their stay. Either way, we will do all the shopping for you!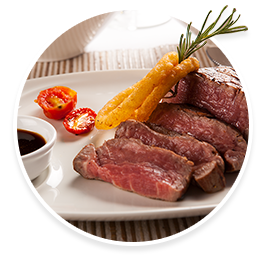 Food & Drink Options

Once you decide how you will pay for your groceries, our chefs will provision the pantry with food for your first night's meal and your first morning's breakfast. He will then sit down with you and put together a plan for the remainder of your stay. You can plan each meal or put yourself in our chef's capable hands and let him surprise you.

Delectably prepared meals and snacks served throughout the property.
Fully equipped kitchen and pantry.
Outdoor barbecue grill by the pool.
Cocktail hours with hors d'oeuvres and Jamaican Rum cocktails.
Beach bonfires for toasting marshmallows.
VIEW PHOTO GALLERY